I ran across a quote today that provided me an overwhelming sense of safety  that my value is not measured by the size of my home or my check book.  I am enough!   My Inner Safety is mine and the outer world can rattle me or provide an edge to grow; but my inner knowing knows this story holds no water today!  I am enough!
"'Enough money' isn't a quantity. 'Enough' isn't out there; it's a relationship to what you already have. Unless you work on that, first (or simultaneously with how you're making money) you will never feel like you have enough, and you will always feel poor. It's possible to feel fat when you're thin, and to feel poor when you're rich. And the thing that changes is your relationship with 'enough.'" ~ Geneen Roth
For the next 6 months I commit to my personal relationship to Money and it's underlying stories and fears.  Relationship with money? That's what I thought.  I mean "what the heck" it's just a pile over there and as long as I have enough I'm okay, False.
How many times have you and your significant other fought over money?  Recently, my sweetie came to me and said, "Why is this bill so high and why is it so confusing now…  I never had these problems before!!!"  and it wasn't in a "joyous" tone, it was THAT "it's all your fault" tone… ya' know the one that leaps you into the defensive, Familiar?  Well, now I'm feeling very small (child-like) and I am now "at the effect of" feeling judged and blamed, and I've taken on the story that "I am the problem" since he said everything was OK before, before what?  before me?  I'm feeling a strong parental presence here and it hurts so bad inside my chest cavity that instead of feeling miserable I just leave taking some of the story as my own (Yes, I took some bait and entered the drama).  A few days go by while I've mentally checked out of the relationship to create my space to process what just happen.  Did it have anything to do with that household bill?  The answer is simple, No.  It's about money BUT it's never about money!!  I am excited to share my adventure here with you.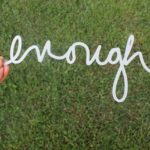 When you work on yourself, you will discover countless ah-ha moments that bring so much insight, growth and blow out what you thought was possible.  This is my own experience and each of us has one to un-peel one layer at a time –
Much Love,
Gina
---